- EXPERIENCES WE ARE OFFERING TODAY -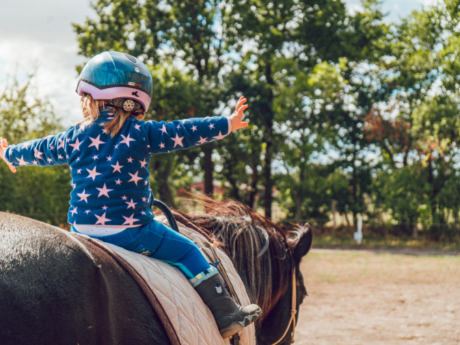 RIDING LESSONS
∙ We offer Beginner and intermediate English and Western riding lessons
∙ Ages 3 to 80! 20 plus years of teaching experience, with a positive atmosphere focused on fun and enjoyment of the horses.
∙ Lesson includes time to groom and tack the pony/ horse up.
∙ We provide the horse and all necessary horse tack. You provide boots and a well fitting riding helmet.
BOOKING OPTIONS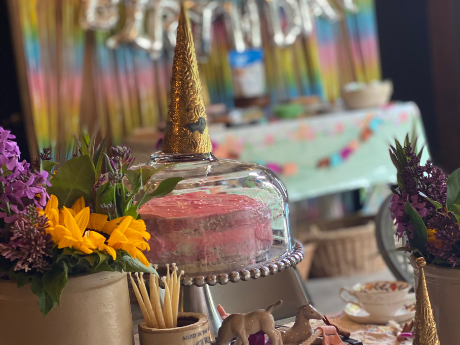 PARTY AT THE FARM
When you book a birthday party at our farm, you get a private block of time for your group with hosted farm activities including Unicorn or Pony rides, and a petting farm with goats (baby goats seasonally), baby chicks, and a miniature horse.
We will start with pony rides in our sand riding arena for up to an hour, and then move to the petting farm at the barn for the next 30 minutes. You can also add an additional 30-60 minutes in the barn for the kiddos to sit at our party table and enjoy your provided snacks/ cake, and open presents on our hay throne!
Please remember this is a farm setting, so there will be dust, flies, farm smells etc!
You can choose an activity only package, or choose to add time on to your party with a party table set up in our barn!
Packages
2-4 kids 1hr
30 minutes pony/unicorn rides
30 minutes petting farm
$250
5-10 kids 1 1/2 hours
1 hour of pony/ unicorn rides
30 minutes of petting farm
$375
For 10 or more we add an additional horse for rides. 1 hour of pony rides and 1 hour 30 minutes of petting farm $500
30 minutes with party table set up in the barn
$150
60 minutes with party table set up in the barn
$200
Party set up includes table, chairs, table cloth
When you book your party with us you are reserving a date on the calendar at our farm. We have an outdoor area on the lawn, a riding arena and an indoor area with in the barn. Based on what you are looking for, we will have the farm set up. You bring decorations and set up the party. and then you will work with our staff to help accomodate your needs. Call Brandelyn 425-761-1543
What we have:
2 long tables
1 high top table
1 standard fold out table
10 folding chairs
Barn
Pony Ride
Goat Petting
Chick Holding
2 Garbage bins
· Perfect for birthdays, bat mitzvah or bar mitzvah
· Tables & Chairs available upon request
BOOKING OPTIONS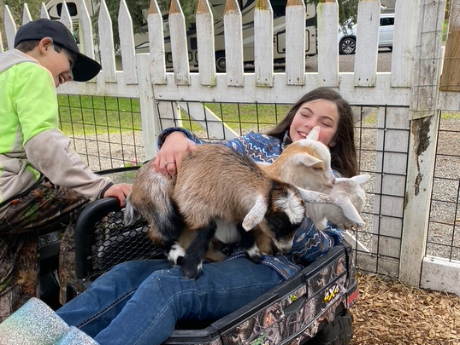 GOAT SNUGGLE SESSION
Pivot Farm has 3 Baby Goats 8-9 weeks old! They are bouncing around, nibbling everything and lounging in their pen. We have been socializing these little ones since they were first born so they absolutely love people!
Get up close and snuggle with our adorable bouncing baby goats!! These are private sessions, where you and up to 4 other people get to have a full 30 minutes to pet, hold, feed, and brush these amazing little bundles of fun! Watch as they run and jump around, you cant help but smile! You can ask questions and learn about goats and all the other aspects of our farm!
What to expect:
Please show up 5 minutes before your session and park somewhere on the designated gravel area near the house. Look for the Guest Parking Signs. You will be greeted by the host and given a few simple guidelines on where to go and how to handle the goats. The host will be available if needed for questions.
The goat pen is a small area where you and your party are all welcome to come in and hang out. The pen can be a tad dirty from time to time so expect the babies to jump on your clothes with dirty hooves. There is a stump to sit on in the pen for snuggling and pictures. It's a farm so make sure you are ok with a little mud, droppings, hay and dust. In the event of heavy rain we can move into the barn or a stall. We provide goat feed & sanitize wipes. Please do not bring any of your own food and please remove all sharp objects from your clothing. The goats love to nibble hair and other loose strings like zipper cords and fringes so be prepared to remove these things from their mouths. They don't bite but they do nibble.
BOOKING OPTIONS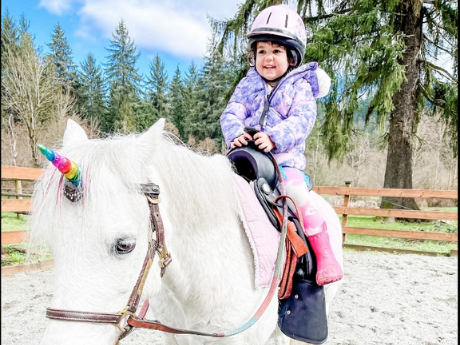 UNICORN EXPERIENCE
Pivot Farm is home to many wonderful creatures big and small. We have chickens, goats, dogs, cats, horses, turkeys, other wildlife and yes a real life UNICORN! Her name is Lady and she only comes around once in a while to meet the luckiest kids in the area. She will be dressed up and ready to meet you and your family in the barn. There will be decorations and lots of smiles.
What is it?
This is a 30 minute riding lesson/experience on our decorated unicorn Lady. You will meet her in the barn, brush her, pick her hooves, give her treats and help get her saddled up. Then we walk you over to the riding arena where our host will walk with you and give you some simple tips on how to ride this magical creature. When you are done you can lead her back to the barn and give her lots of attention and probably some more treats too.
BOOKING OPTIONS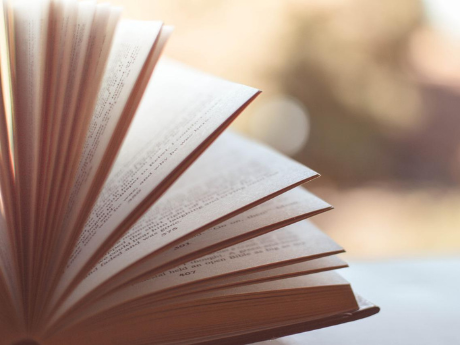 CLUB MEETUPS
Bring your club out to our property and pick your favorite outdoor location. Near the creek? Near the pasture, by the goat pen, in the barn...? It's your choice!
We provide chairs and a pop tent if necessary.
30 minute sessions up to 2hrs.
CALL FOR PRICING
LOOKING FOR SOMETHING UNIQUE?
DON'T SEE WHAT YOU ARE LOOKING FOR? MAYBE WE CAN STILL HELP YOU OUT. GIVE US A CALL @425-761-1543 OR EMAIL US PIVOTFARMCO@GMAIL.COM